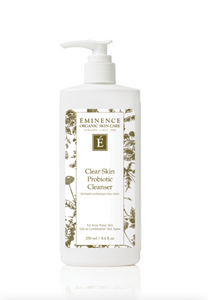 Cool and balance your skin with our Clear Skin Probiotic Cleanser. This clarifying cream-gel cleanser treats oily and problem skin with cucumber and tea tree oil. Sweet almond milk and yogurt reduce the visible signs of problem skin and breakouts without stripping the skin of moisture. Cruelty-free and formulated without parabens, sodium lauryl sulfates, synthetic dyes, petrochemicals, phthalates, GMOs and triclosan.
Retail Size: 8.4 oz / 250 ml
Winner of Best Teen Skincare – Acne, Spa & Wellness MexiCaribe Product Awards, 2019
Winner of Best Acne Collection, ASCP Skin Deep Readers' Choice Awards, 2018 
Winner of Best Acne Cleanser, 1st Place - Aesthetician's Choice Awards, Dermascope, 2017
Winner of Best Acne Collection, DaySpa Professional Choice Awards, 2017
Winner of Top 10 Best Facewash, Spirituality & Health The Beauty 100, 2016
How to Use
Mix (dilute) a small amount of the product (pea size) with water in hands, apply and massage into skin with fingertips in a circular motion covering the face and neck for 1–3 minutes. Completely remove with a damp face cloth and then finish with an application of toner.
Key Ingredients
Cucumber Juice: revitalizer, toner; tones and shrinks the appearance of skin pores while purifying the skin
Yogurt: exfoliating; contains lactic acid; moisturizing and nourishing
Sweet Almond Milk: softening, nourishing and sweet-smelling
Tea Tree Oil: an essential oil
Willow Bark Extract: astringent
BioComplex: a booster of antioxidants, Coenzyme Q10, and Alpha Lipoic Acid to reduce the appearance of wrinkles and improve the appearance of skin
Results
The skin is perfectly cleansed and calmed
Appearance of Blemished areas are improved
Pore size appears minimized
Skin is purified and detoxified