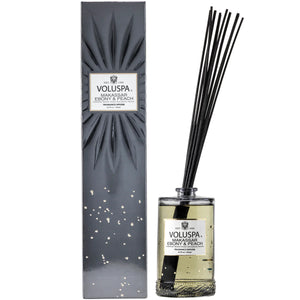 Notes of Solid Black Ebony Wood, Ripe Peaches & Apple Blossom.
Fragrance Description
Take in the deep sensual darkness of wood paired with fruit. Inhale the scent of solid Black Ebony and Mahogany with the succulence of ripe Peaches and Apple Blossom. Like discovering an overflowing fruit orchard in the deepest, darkest enchanted forest - imagine this irreverent scent combination, so appealing in its darkly, unexpected, juicy delight. A Voluspa classic, feel free to pick it.

About the Product
Voluspa's fragrant diffuser oil is hand-poured into an glass vessel for a subtle pop of elegant décor. Create your home's signature, always-on fragrance in spaces requiring minimal effort, and enjoy for 4-6 months. Includes 10 rattan reeds for powerful fragrance without overwhelming. 
Product Details:
Product Life: 4-6 Months
Fill (fl oz): 6.5

Vegan

Free of phthalates, pesticides, parabens and sulfates