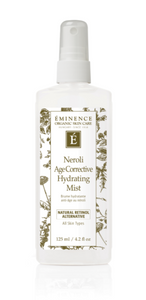 A collagen boosting toner with Natural Retinol Alternative and Swiss Green Apple Stem Cells for all skin types, especially mature. Your skin will feel smoother and appear tighter with the energizing boost of fragrant neroli oil. Cruelty-free and formulated without parabens, sodium lauryl sulfates, animal by-products, synthetic dyes, petrochemicals, phthalates, GMOs and triclosan.
Retail Size: 4.2 oz / 125 ml
Winner of Best Anti-Aging Range, Natural Health International Beauty Awards, 2019
Winner of Best Anti-Aging Collection, ASCP Skin Deep Readers' Choice Awards, 2018 ​
How to Use
Spray directly on to face and neck, avoiding the eye area. Leave on. May also be applied with cotton pads.
Key Ingredients
Neroli Oil: regenerating, refreshing and hydrating; fragrant antiseptic and skin softener
Coconut Milk: moisturizing and nourishing; softens the skin's appearance
Coconut Water: moisture and pH balancing, toning; infuses the skin with strengthening electrolytes, Vitamin C, calcium, potassium, phosphorus
Natural Retinol Alternative Complex: immediate lifting and tightening agent containing chicory root oligosaccharides and tara tree; collagen boosting, firming and smoothing
PhytoCellTec™ Swiss Green Apple Stem Cells: rejuvenating plant stem cell concentrate; maintains the look of skin's elasticity and regeneration by strengthening cells and delays the visible signs of aging
Results
Epidermis instantly looks firmer and tighter
The skin appears calmed, matte and hydrated
The skin appears perfectly clear, fresh and toned
The skin appears vibrant and revitalized