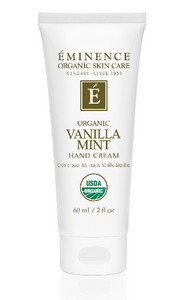 Soften and soothe dry hands with this hydrating hand cream, made with organic shea butter and a delicate hint of fresh vanilla and mint.
Retail Size: 2 oz / 60 ml
How to Use
Dispense a small amount into the palm of your hand and rub the product into the skin until fully absorbed. Do not add water.
Key Ingredients
Shea Butter: calms and moisturizes dry skin
Vanilla: relaxing, uplifting scent
Peppermint: refreshing antioxidant
Aloe: heals, moisturizes and soothes dry skin
Results
Skin appears clean and soothed
Skin is moisturized and appears smooth