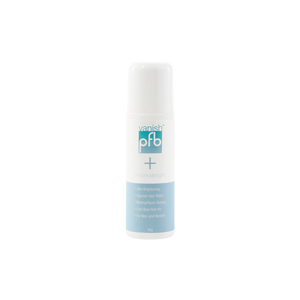 PFB Vanish + Chromabright© is a new patented active ingredient for safe skin brightening. It significantly lightens the skin while fighting against photoaging and reducing the appearance of dark spots resulting from ingrown hairs. The cool roll-on formula calms irritated skin after waxing or shaving and provided unprecedented relief for individuals suffering from uncomfortable ingrown hairs. While some skin lighteners can cause irritation and/or sensitivity in the sun, this product actually helps to prevent skin damage caused by UV radiation.
This skin treatment is a unique product for minimizing skin irritation. It is applied by a mess-free applicator that makes this formula quick and easy to use. As you roll on this clear treatment, your skin is left with a light, herbal scent and cooling relief for painful bumps caused by hair removal. Salicylic acid and glycolic acid provide mild exfoliation to prevent ingrown hairs, while willow bark extract and camphor oil prevent infection before it starts.
WHEN USING PFB: Do not use any type of chemical exfoliants, abrasive scrubs or harsh soaps in conjunction with PFB Vanish or PFB+Chromabright.
Directions: Use on face, neck, underarms, legs, back and bikini areas. For maximum benefits apply daily after hair removal. If there are pre-existing ingrown hairs, apply two times per day. Hair should lift out above the skin line.