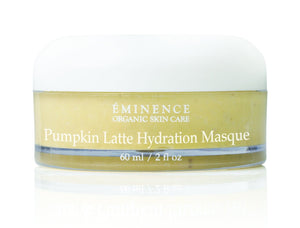 Restore your skin's natural moisture balance with our Pumpkin Latte Hydration Masque. Vitamin E and Omega 9 nutrients combine in this dreamy puree of fresh pumpkin to fight the appearance of aging and environmental stress on your skin. 
Retail Size: 2 oz / 60 ml
How to Use
Mix a small amount of product in your hand with a few drops of water and apply evenly over the entire face. The neck and the décolleté can be treated, if desired. Allow to dry for 5-10 minutes. Rinse thoroughly with lukewarm water and use a face cloth if desired. 
Key Ingredients
Pumpkin Purée: rich in enzymes, beta-carotene, amino acids, and antioxidants  to fight the visible signs of aging
Avocado Oil: moisturizes skin
Soy: rich in isoflavones and vitamins to reduce the appearance of wrinkles
Orange: rich in vitamins, antioxidants and polyphenols to support the skin
Pineapple Pulp: gently exfoliates by dissolving dead skin cells naturally
White Willow Bark: eases the visible signs of aging; contains phyto-estrogen
Calendula Oil: tones, tightens and supports the skin through moisturization
Comfrey: reinforces skin's appearance with moisture
Green Tea: high in antioxidants, polyphenols, flavonoids, and vitamins for youthful-looking skin
Chamomile: revitalizes, calms and balances the appearance of skin
Lavender: heals dry skin and restores moisture
Aloe Vera: soothes and refreshes dry skin
Grape Oil: hydrates and provides the appearance of youthful skin
BioComplex™: a booster of antioxidants, vitamins, Coenzyme Q10, and Alpha Lipoic Acid to reduce the appearance of wrinkles and improve the appearance of skin
Results
Complexion appears smooth and vibrant
Epidermis is moisturized and hydrated
Dry skin appears balanced and supple
The appearance of visible signs of aging are reduced