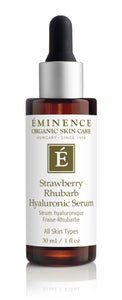 Give your skin a youthful looking glow with hyaluronic acid and vitamin-rich strawberries and rhubarb. It's a powerful rehydrator for dry skin.  
Retail Size: 1 oz / 30 ml
Winner of Best Natural Cosmetics, Cosmopolitan Beauty Awards, Cosmopolitan, Croatia, 2015
 
Winner of Best In Natural Beauty Award, Editor's Choice, Sweet Violet Bride, 2015
How to Use
Apply a thin layer over the entire face, or apply to affected areas 1–3 times per day.
Key Ingredients
Strawberry: cleanser and astringent; contains salicylic acid that gently exfoliates and removes impurities to brighten the look of skin and shrink the appearance of pores
Rhubarb: a good source of ascorbic acid and vitamins to fight the look of wrinkles
Botanical Hyaluronic Acid (from marshmallow plant extract): deeply hydrating; natural substance that smooths and replenishes the look of skin to minimize the appearance of fine lines and wrinkles
Honey: supports the skin with moisture
Aloe Vera: soothing and refreshing
BioComplex: a booster of antioxidants, Coenzyme Q10, and Alpha Lipoic Acid to reduce the appearance of wrinkles and improve the appearance of skin
Results
Skin appears plumped and smoothed
Fine lines and wrinkles appear minimized
Skin appears hydrated and supple
Skin feels smoother and more silky