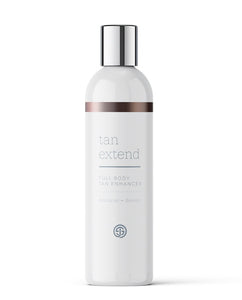 A hydrating daily moisturizer which gives added life and vibrancy to any tan. Suited for all skin types, this Tan Extend lotion contains a hint of tanning ingredients (DHA) that will help build and keep your just off the beach tan.
100% Vegan (Approved by the Peta foundation)
Made from only naturally derived ingredients
Paraben-free and Erythrulose free
Designed as a facial and full body self-tanning moisturizer
Pineapple scent
SIZE: 8 fl oz / 237 mL
How to Use
On cleansed skin, apply an even layer of Tan Extend to any desired area or full body. We recommend washing hands immediately after application to avoid DHA development in unwanted areas. Wait 8-10 minutes before dressing to ensure product has absorbed into the skin.
Ingredients
Caffeine Extract

 

– dehydrates fat cells making skin appear more smooth and firm
Kukui Nut Oil

 

– contains essential fatty acids that help the body retain water and cleanse the skin. Helps to reduce appearance of cellulite
Niacinamide

 

– skin restoring ingredient that offers multiple anti-aging benefits such as improving appearance of large pores, uneven skin tone, fine lines and dullness
Water, Aloe Vera, Gel Behenyl Trimonium Methosulfate, Dimethicone, Glycerine, Cyclomethicone Sodium PCA,Polysorbate 60, Cetearyl Alcohol, Kukui Nut Oil, Jojoba Oil, Isopropyl Palmitate, Cucumber Extract Rooibus Tea Extract, Green Leaf Extract, Citric Acid, Dinhydroxyacetone, Collagen, Glycosamine, Hydrocreatine, Copper Gluconate, PyridoxinHCL, Niacinamide, Tocopheral Acetate, Sunflower Extract, Grape Extract, Feenel Seed Extract, White Birch, Red Algae, Adenosine Triphosphate, Proflavin HCL, Superoxide Dismutase, Caffeine Extract, Yeast Extract, Dextran, Actyl Hexapeptide, Ectoin, Phenoxyethanol Hexylene Glycol, Ethylhexyl Glycerine